How to Size a Sewage Treatment Plant for Off-Mains Drainage
If you are considering installing an off-mains drainage system such as a sewage treatment plant, there are a number of things to take into consideration. Before any building work can begin you need to assess the size required to suit the requirements of the property. Below we explain in more detail how you size a sewage treatment plant.
The vast majority of properties in the UK are attached to a main sewer via a network of pipes. However, an alternative option is to install an off mains drainage system, which instead of being connected to a main sewer, privately collects wastage from the property.
The majority of these types of systems tend to be in rural locations where there isn't a mains sewer connection or is expensive to try and connect to.
An off mains drainage system can either be a cesspit, septic tank or sewage treatment plant. In this article we are concentrating solely on treatment plants and how to measure the correct size for installation.
How do you size a sewage treatment plant?
Getting the correct sizing of a sewage plant is important as you need to ensure the tank is able to handle your ongoing wastage disposal requirements. If not, performance levels are likely to dip, which will create additional work and potentially more costs.
The tank you choose will need to be determined by the number of people it will be catering for, rather than basing it solely on storage volume. This requires you to calculate something called a Minimum Population (P) figure.
What is Minimum Population?
Instead of accounting for the minimum amount of people who live at the property, the figure is derived from the minimum number of people using the bedrooms.
For example, if the property has three bedrooms, a Minimum Population (P) figure of 5 people would be used. For any additional bedrooms in the property, the Minimum Population (P) count would increase by 1. This is according to the Flows and Loads code of practice set out by British Water.
Smaller houses or flats with a single bedroom would equate to a 3 person system, with a two bedroom property equalling 4 people.
If the sewage treatment system is connected to a group of flats or houses, each property will need to be calculated individually and the Minimum Population (P) figures added together.
Finally, should the total population of a group of flats or houses be higher than 12 people, you may have to factor in a reduction. The reason for this is to account for a balanced overview of usage by the people living in these properties.
P values between 13-25: Multiply the P value by 0.9 before rounding up to the nearest whole figure.
P values between 26-50: Multiply the P value by 0.8 before rounding up to the nearest whole figure.
In most cases these additional calculations will not be required by domestic property owners, as they will either be installing the system for their own property, or for a smaller group of houses.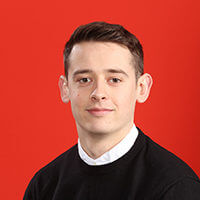 Marketing Coordinator - Based at our UK HQ in Banbury, Oxfordshire, Callum is responsible for promoting Water Management Systems, Attenuation Tanks, Treatment Plants, Rainwater Harvesting Systems and more!