With more and more developments in the UK being built on green fields it is important to think about
how to deal with the increase in surface water run-off and minimise flood risk, as rainwater will not be
able to drain into the ground as the land will be covered with impermeable surfaces like, buildings,
roads and car parks.
There are ways to imitate natural water management systems by creating; ponds, swales and wetlands
but when the space isn't available to do this, developers can create an underground reservoir to help
store excess surface water run-off.
The most common approach to creating an underground storage tank is to use; stormwater attenuation
crates, impermeable geomembrane and geotextile to make a stormwater attenuation tank.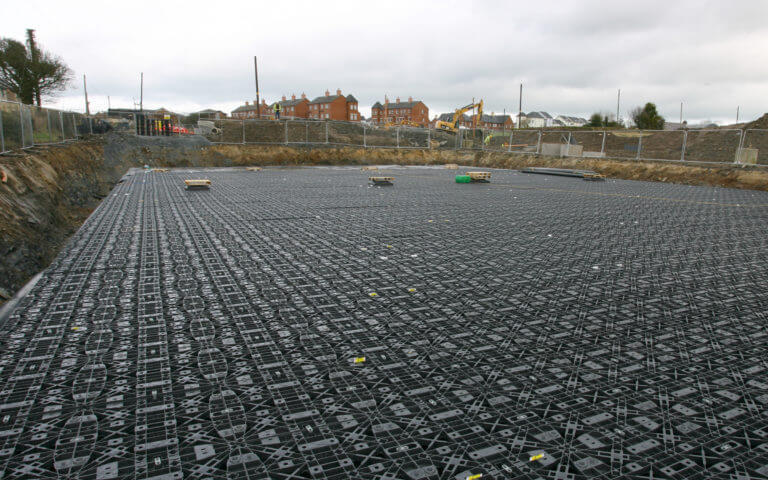 A stormwater attenuation tank is designed to collect and store excess surface water run-off from a large
storm event. The water is then released from the storage tank at a controlled rate, usually by a flow
control, which means that the surface water run-off will be slowed down before being released into a
local water course like a river or reservoir, minimising the risk of localised flooding.
There are plenty of different solutions that are used to form stormwater attenuation tanks. Large
diameter pipe systems, either plastic or steel, Pre-cast Concrete Box Culverts, concrete tanks
and plastic tanks, can all be used to create large underground stormwater holding tanks.
Geocellular tanks, commonly known as crates, are a popular choice for engineers and contractors
because of their modular nature, enabling them to fit into small spaces with the length, width and depth
being designed to suit site specific constraints in terms of space.
They are also suitable for heavy-duty loading with minimal cover, meaning less earth has to be
excavated compared to other systems. Their high void ratio, typically 95%+, means that there is also
very little space not used for stormwater holding capacity within the excavation, therefore reducing the
amount of spoil from the excavation that generally has to be removed from site, which can be costly.
In most developments, the surface water drainage plan has to be in place right from the start, with the
environment agency being responsible for deciding at what rate (in litres per second) the surface water
can be released into the water course. Once this rate is confirmed, it is possible for the required storage
volume to be calculated. Once the storage volume is known, the designers can work out where on the
site the tank can be located, then decide what solution fits best for the specific site needs in terms of
loading and size, dictated by the space available.