A stormwater attenuation tank is designed to collect and store surface water run-off as a result of a storm event. The stormwater is then released from the storage tank at a controlled rate, usually by a flow control, which means that the surface water run-off will be slowly released into a local water course like a river or reservoir, therefore minimising the risk of localised flooding.
An attenuation tank can be made up of geo-cellular crates, impermeable geomembrane and protective geotextile, to create a watertight storage tank underground. With every development in the UK needing some form of sustainable urban drainage system (SuDS), it's important to know how an attenuation tank of this type is installed.
Step 1
Firstly, the gravel base of the excavation is covered with a layer of geotextile to protect the base layer of the geomembrane.
Step 2
Then a layer of geomembrane is laid out on top of the geotextile and depending on the size of tank some membrane panels may need to be welded together.
Step 3
Now the blocs (commonly known as crates) can be fitted together on top of the geomembrane base, depending on the type of bloc some will need to be clipped together and others will need base plates to be laid out first, then the blocs can be placed onto the base plates and then clipped together.
Step 4
Once the blocs are in place the end plates will need to be fitted around the tank (if they are needed which depends on the type of product chosen).
Step 5
Now the tank has been built with the geo-cellular crates, it is time for the geomembrane sides to be pulled up around the tank and for all pipe connections to be sealed.
Step 6
Once that is done a final layer of geomembrane is laid out on top the tank and welded to the side panels of the membrane to create a watertight seal all the way around the tank.
Step 7
Finally, a geotextile protection layer is laid out on the top and sides of the tank to protect the geomembrane from being damaged from the surrounding gravel.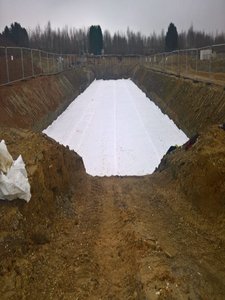 Geocellular Stormwater attenuation tanks are becoming a popular choice for engineers and contractors
because of their modular nature, meaning the tank can be configured to fit into different shapes and
sizes depending on site conditions.